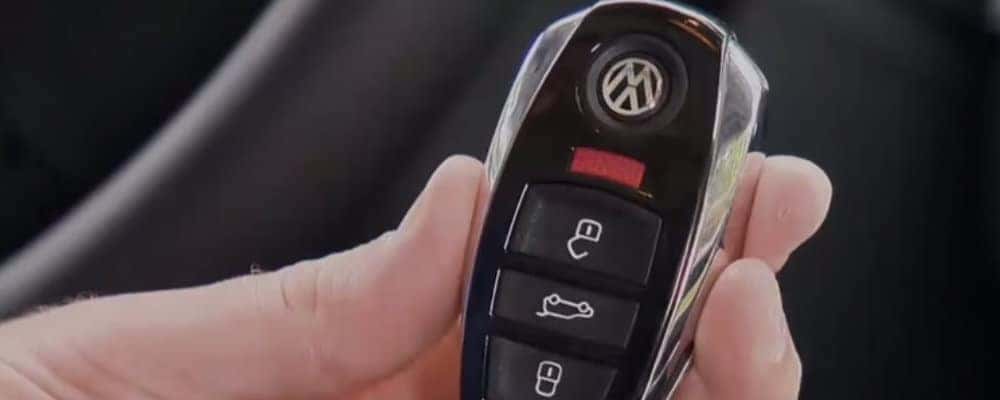 ---
Have you been wondering how to change the battery in a VW key fob? It's actually quite simple. The key fob battery should work perfectly for a few years, but it is likely that you will need to replace it at some point. If you need assistance, the team at our service center near Arlington can help you with this task. However, you can also perform your VW key fob battery replacement from the comfort of your home. All you have to do is follow the steps below.
Which VW Key Battery Do I Need?
Learning how to change the battery in a VW key fob isn't difficult, but it is important to know what kind of battery you need. Here is how you can find what your particular vehicle needs:
If you drive an older VW vehicle with a fob that looks like a simple Volkswagen car key, it likely requires a CR1632 battery.
Most new models made after 1999 use a fob that looks more like a small pod with buttons on one side and a retractable emergency key. For this key fob, there is a good chance that a CR2032 battery is needed.
VW Key Battery Replacement: The Basics
It is easy to change the key fob battery for all VW models. Before you begin, locate a small screwdriver and a new CR2032 battery. You don't want to damage the key fob, so it is a good idea to wrap the flat-head screwdriver with a small piece of tape.
Follow these easy steps:
Hold the button on your Volkswagen key fob until the emergency key pops out.
Grasp the fob firmly in your hand, or attach it to a small metal key ring that you can hold on your index finger.
Find the seam between the lid and the base of your fob. Use your fingers to create a small distance between the two, and then use the flat-head screwdriver to finish prying them apart. Try not to scratch the inside of the key fob.
Take out the old battery and swap it for the new one. The positive side should face downward.
Close the remote case tightly to hold everything in place. Once you do, you are ready to hit the streets of Washington DC.
How to Start the Car Without Your Smart Key
If you press the button on your key fob over and over again, but it is not functioning as it should, don't worry. VW key fobs contain what is usually referred to as an emergency key or a bayonet key, which doesn't require battery power. What happens if your car has a keyless entry or a push button start feature? All you have to do is hold the emergency key below the ignition to start the engine.
Volkswagen Key Replacement
If your battery isn't the issue, or you've lost your key, we have you covered with car key replacement. It's best if you have a spare key, but if not, you are not out of options. If you are in need of VW key replacement, stop by the dealership today. Have your driver's license and your proof of ownership handy when you arrive.
If you've just picked up a new VW key fob, you may need to spend some time programming the key before it will work as it should. We would be glad to program your key for you when it is sent to our service center.
Turn to Alexandria Volkswagen for Assistance
When you need assistance with your VW key fob battery replacement or other maintenance tasks, do not hesitate to reach out to the team at Alexandria Volkswagen.

More from Alexandria Volkswagen
The all-new 2022 Volkswagen Taos is a compact SUV that delivers on all fronts. A powerful exterior with a turbocharged engine and all-wheel drive joins with a stylish interior featuring the Volkswagen Digital Cockpit and all the latest technology. And there's a variety of builds and price points to choose from, so you're sure…

For decades, Volkswagen has held a reputation for excellence in engineering. Drivers from Alexandria to Springfield know when they're behind the wheel of a Volkswagen, they're in command of a vehicle that is in turn in command of the road. In the case of the 2022 Volkswagen Taos, the case is much the same….

Are you ready for the 2022 Volkswagen Taos, Arlington drivers? The 2022 VW Taos is ready for your driveway or curb and we want you to be the first to get your hands on it! This is a smart and vibrant compact SUV that will thrill you as you take it on local roads or…