VOLKSWAGEN PARTNER PROGRAM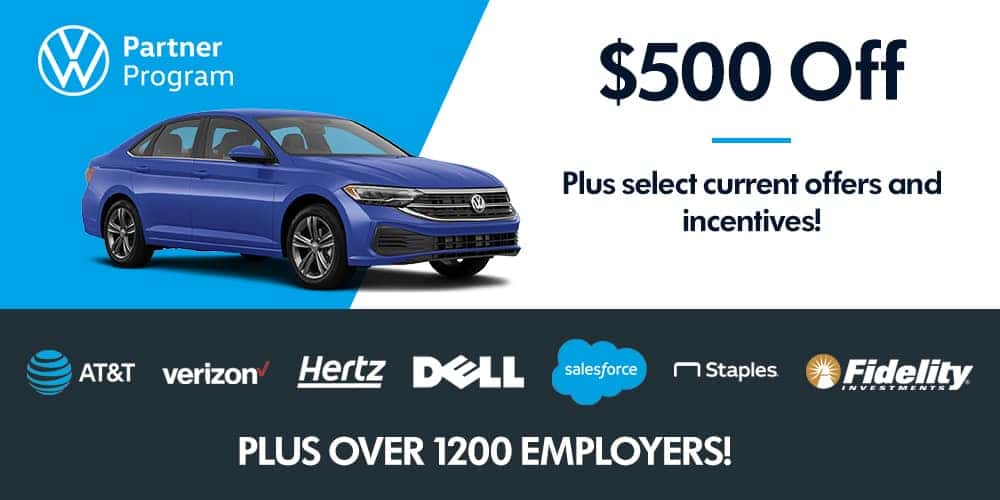 ---
If you or a household member are employees of qualified VW Partner Program companies, you are eligible to purchase or lease a new Volkswagen with $500 off, plus select current offers and incentives. Designed to provide you the best deal on a new VW lease or purchase, this Certificate was created to make getting your hands on a new VW as easy as possible. Take advantage of this to get behind the wheel of a new VW today!
If you have any questions or concerns, you can contact Program HQ directly at (703) 364-7910. Here at Alexandria Volkswagen, the VW Partner Program is one of many ways we assist Arlington and Washington DC area car buyers. We also offer various tips on financing and leasing, in addition to our common specials and discounts. Let's get into the details of how you can save near Springfield, whether you order or reserve your vehicle, below.
A few of the eligible employers include:
Bank of America

Uber

AT&T

Verizon

Hertz

Dell

Salesforce

Staples

Fidelity

And many more…
1. ELIGIBILITY
All full-time, direct employees and retirees of Partner companies, members of Partner organizations, and their respective household members can participate in the Volkswagen Partner Program (the "Program"). Employees must work at a U.S. location. Contract employees or employees of subsidiaries, unless otherwise agreed upon, are not eligible. If you have eligibility questions, please contact your benefits administrator or Program Headquarters.
2. HOW IT WORKS
Present your personalized Certificate to a participating U.S. Volkswagen Dealer to redeem this Offer. If you fail to present the Certificate up front, the Dealer is not required to honor the Certificate. You must also present a valid driver's license at the time of sale. The Dealer will validate eligibility and sell or lease you a new VW vehicle with $500 taken off, which is then combinable with select current offers and incentives that are available through Volkswagen of America (VWoA) or through the Dealership.
3. PARTICIPATING DEALERS
Please verify that the Dealer is participating in the Program, as it is voluntary. Participating Dealers will sell or lease the eligible vehicle and may offer you financing or leasing to be negotiated between you and the Dealer.
4. FINANCING
Financing through VCI is not required for the use of this Program. Special financing or leasing terms may be available to you though this Program. Customer eligibility will be determined by Volkswagen Credit (VCI). Please ask the Dealer for VCI financing or leasing options to learn if you qualify.2
5. PARTS AND ACCESSORIES
Participating Dealers may sell you parts, accessories, finance, and insurance products and other items as with any other retail purchaser. Participating Dealers may take vehicles in on trade and may acquire and dispose of such vehicles as in any normal retail transaction on such terms as they choose. All the transactions contemplated by this paragraph are strictly between you and your participating Dealer and are to be negotiated solely between you and the Dealer.
6. VEHICLES ELIGIBILITY
New, unused Volkswagen vehicles are eligible. Final vehicle availability is determined by the participating Dealers. Dealers are not required to sell you a vehicle from their stock or order bank if the vehicle is in short supply. Be advised that VWoA may restrict the availability of certain vehicles under this Program. In such case, VWoA will inform participating Dealers in advance, in writing, of the terms of such restrictions or incentives, and the Dealer will comply with any such terms.3
7. CLAIMS
VWoA has the right to audit all the records pertaining to this transaction. If VWoA finds that you violated any term or falsified any documentation of VWoA's Partner Program, VWoA may cancel your privileges to acquire vehicles under any special VWoA programs and may, at its discretion, seek to recover any special benefits you received.
8. FINAL DECISION
VWoA's decision is final and in all matters relating to this Program. VWoA has the right to amend or cancel this Program at any time for any reason.
9. CUSTOMER CONTACT
Upon printing this Certificate, you acknowledge that you will receive special communications, typically in the form of email. If you have any questions regarding our customer privacy policy and commitment, please refer to vw.com/privacy/.
1. As with any new vehicle purchase, you are responsible for all taxes, title, licensing, documentary, emission, and other fees.
2. Volkswagen Credit will not finance any vehicles to be used for delivery services.
3. Select models may be periodically excluded and can be verified by your local VW dealer or Program HQ. Additionally, Audi vehicles are not included in this Offer.